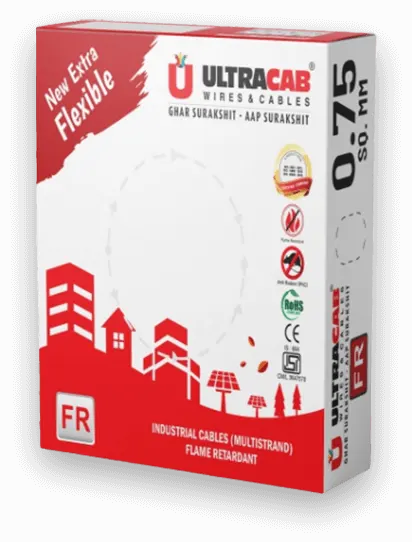 Extra Flexible FR Wire
About Extra Flexible FR Wire
Ultracab's Extra Flexible FR House Wires are insulated with flame retardant (FR) PVC compound , specially formulated to provide added safety. This FR PVC Compound has a high oxygen and temperature index. These properties help in restricting the spread of fire even at very high ambient temperatures . This special compound also offers high insulation resistance and dielectric strength.
Special Features
Extra Flexible Conductor
Compliance to RoHS
Anti Rodent PVC (Mouse-Proof)
Advance Features :
Temperature
Withstand High Temperature
Flexibility
High Flexibility
Insulation
Two layers of protection
Insulation Resistivity
High Resistivity of Insulation
Copper Purity
99.97% (IACS)
Additional Ultra Triple Protected Wire Properties
| Characterstics | Standard | Typical Values |
| --- | --- | --- |
| Critical Oxygen Index | ASTM-D 2863 | More than 29% |
| Temperature Index | ASTM-D 2863 | More than 250ºC |
Innovating for a Safer World.